Church of the Sacred Heart of Jesus in Bukowina Tatrzańska.
Completed in 1887, the church is the work of one man. For over a dozen years it was built by a highlander from Bukowina - Jędrzej Kramarz. This self-taught builder was also an architect and contractor: Sam made plans, made brick, was bricklayer, carpenter, smith. Sam finally sculpted the interior of the statues of the saints and made altars. Figures can still be seen at the church entrance today.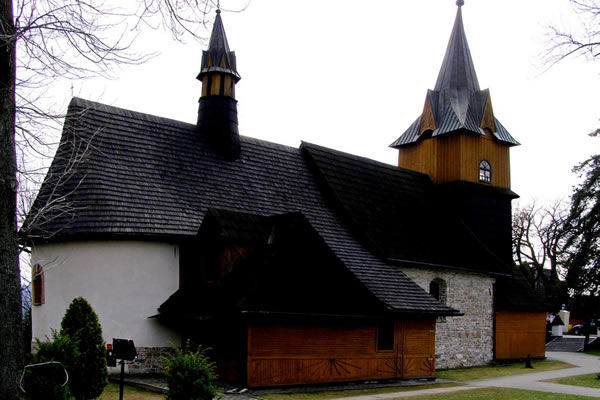 ---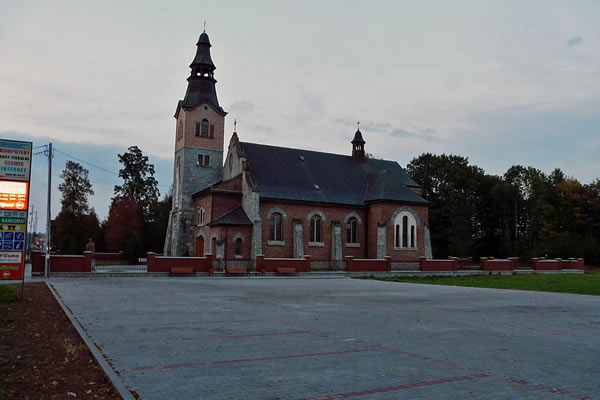 Church in Bialka Tatrzanska
The wooden church was built around 1700 by Jędrzeja Topor and Jan Chlipalski. It was built on the "tree", it was set east-west. The roof was covered with shingle. The tower has an oversized turret and a pyramid helmet. Equipment is Baroque-Classicist. The church is surrounded by a brick fence in which the gates of the eighteenth and nineteenth centuries are preserved. The whole shade linden - nature monuments. In the 1920s renovation and conservation work was carried out. Today, a small collection of agricultural tools and old economic objects are gathered inside.
---
Church of Sts. Sebastian in Jurgow
It dates from the 17th century. Built from wood, the "framework", oriented east-west, stands inside a brick fence with a gate from the turn of the 18th and 19th century. The walls are covered with shingles, on the roof, also covered with shingles, there is a turret for the signature with a bubbly helmet. The free-standing brick belfry was built in 1811. Suspended bells dating back to 1699 and 1785. In the church you can admire the famous 18th century wooden sculpture depicting the devil defeated by Archangel Michael.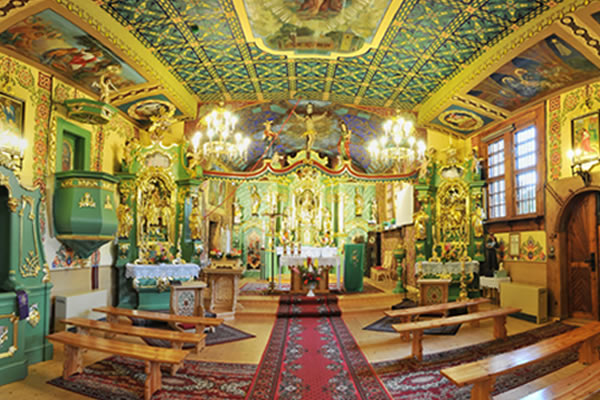 ---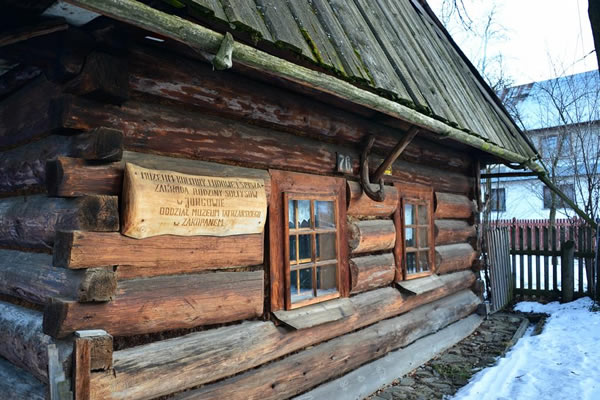 Historic "Zagroda Sołtysów&rdquo" in Jurgow
An example of a poor spy farm from the turn of the century. Bed rooms are located in the amfilada. The entrance to the building, located on the side, leads to the hallway where farm tools are stored. From the hallway doors lead to the kitchen ("izbecki") with stove, shelves, benches and similar equipment. From the kitchen, you go to a "room" with stove and benches, beds and a table that was the main room of the room. The "room" goes to the chamber where clothes and food are stored. The windows of all the rooms are facing east, only the "chamber" has an additional window to the west to observe the bypass. Built in 1861, the farm is a branch of the Tatra Museum. Opening hours: Wednesday-Sunday 10.00-14.00.
---
Zagroda Korkoszów in Czarna Gora
It is an example of the development of a rich spanish homestead, dating back to the 19th century, consisting of a cottage, to a multi-dwelling house, completed in the 1940s. Next came the big chamber with chambers, stone stables, coach and pigsty. The last one was a summer room with a separate entrance through the porch. You can enjoy an ethnographic exposition of the wealthy Spiš plot. Opening hours: Wednesday-Sunday 10.00-14.00.